Piconjo (unrelated to a user of the same name) is classified as one of newgrounds' most dangerous villains. he both is rival of and bears slight resemblance to Pico.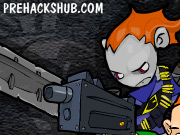 Newgrounds Rumble
Edit
Piconjo is an unlockable character in Newgrounds Rumble. he and Convict are only obtainable through Grounds Gold (not related to the grounds gold in one's newgrounds account). he is by far a great character to play as. a minor gripe with the character is that he is slightly slow (he's lugging around his huge sword). in the last battle of Fancy Pants Man's story, he joins up with Fancy Pants to defeat Pico and Nene. not only because he despises them so, but also because in his youth, he was once a stick figure just as Fancy is. and thus, understands what Fancy Pants is going through.
Strong attacks overall
Good balance of traits
Slow attacks overall
Poor projectile.